Quotes
Overview​
This feature allows you to create and send quotes to your customers. Customers can view their quotes online and accept or reject the quote.
When a quote is won, it is labeled as "Accepted" in ChargeOver. Meaning that the customer it was sent to paid for it and accepted the quote.
Accepted quotes are automatically converted into subscriptions or one-time invoices, depending on if they are for recurring service or not.
Enable Quotes​
Go to your Settings and select [Add-Ons], then More Add-Ons

Find or search for Quotes and select Get Started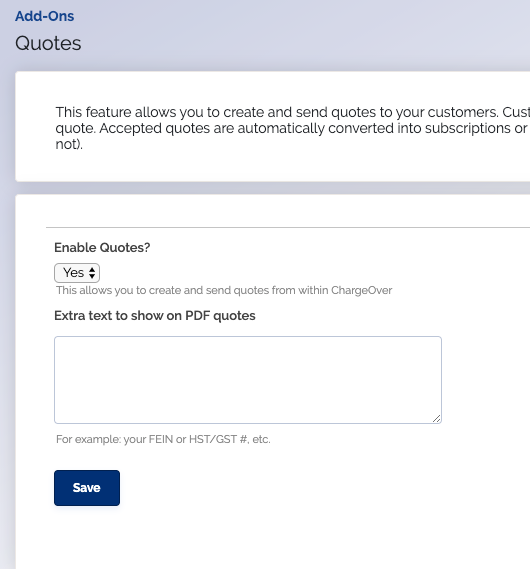 Click Save Settings
Create a Quote​
Go to your Dashboard and select Quotes Then Open Quotes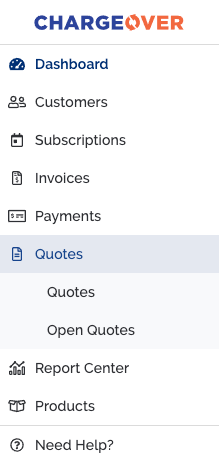 Click on the New Quote button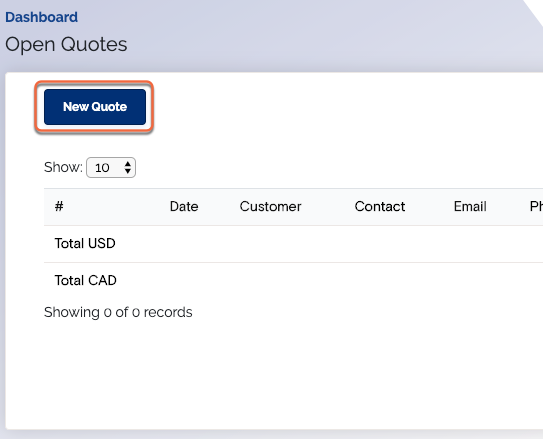 You'll be asked to indicate which customer to create an invoice for. Choose a customer

Select the product/plan, and fill in a description, rate, quantity, etc.

A module will open letting you know your quote has been created and allow you to email the quote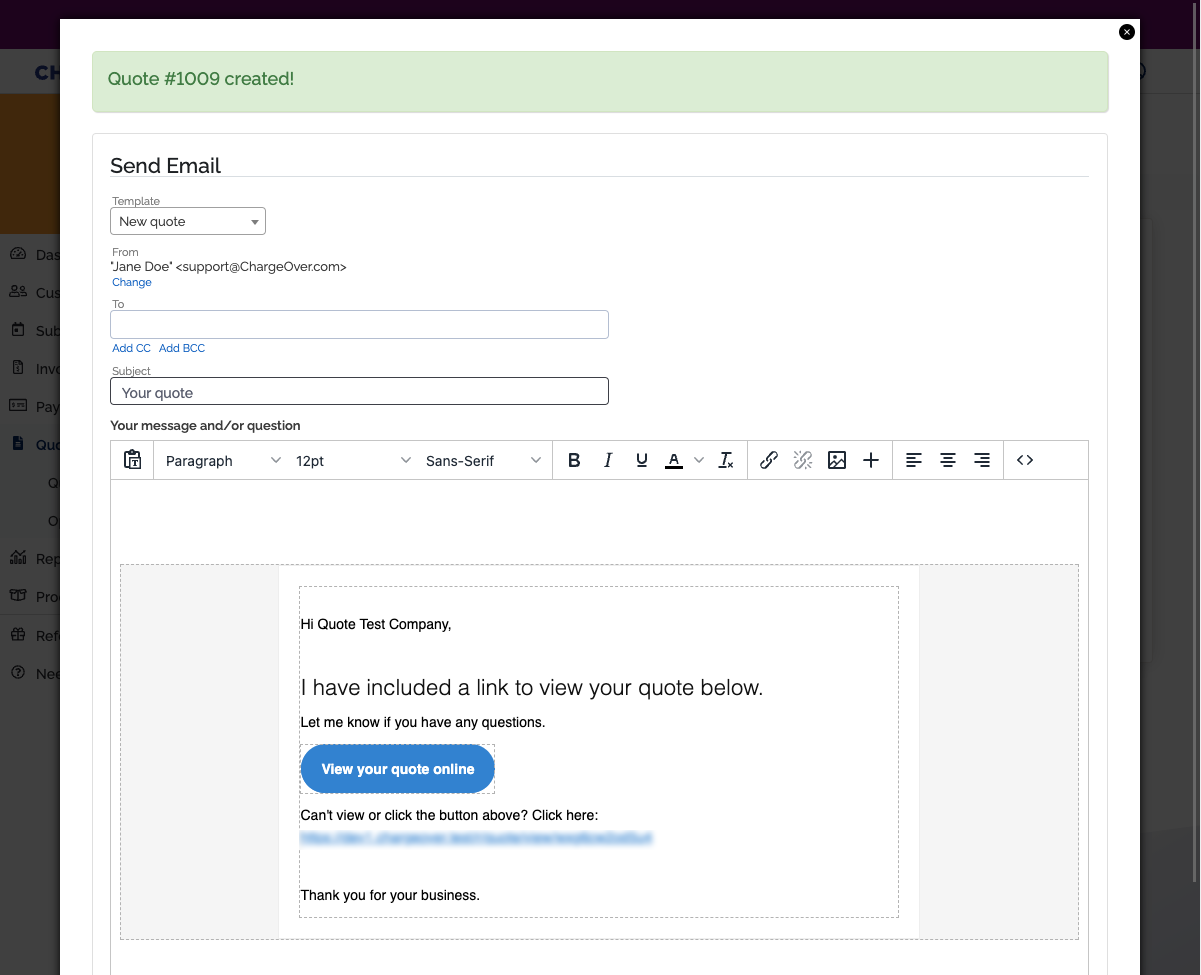 Once you have created your quote, you will see more Quote Actions available to you in the right column and a place to add notes at the bottom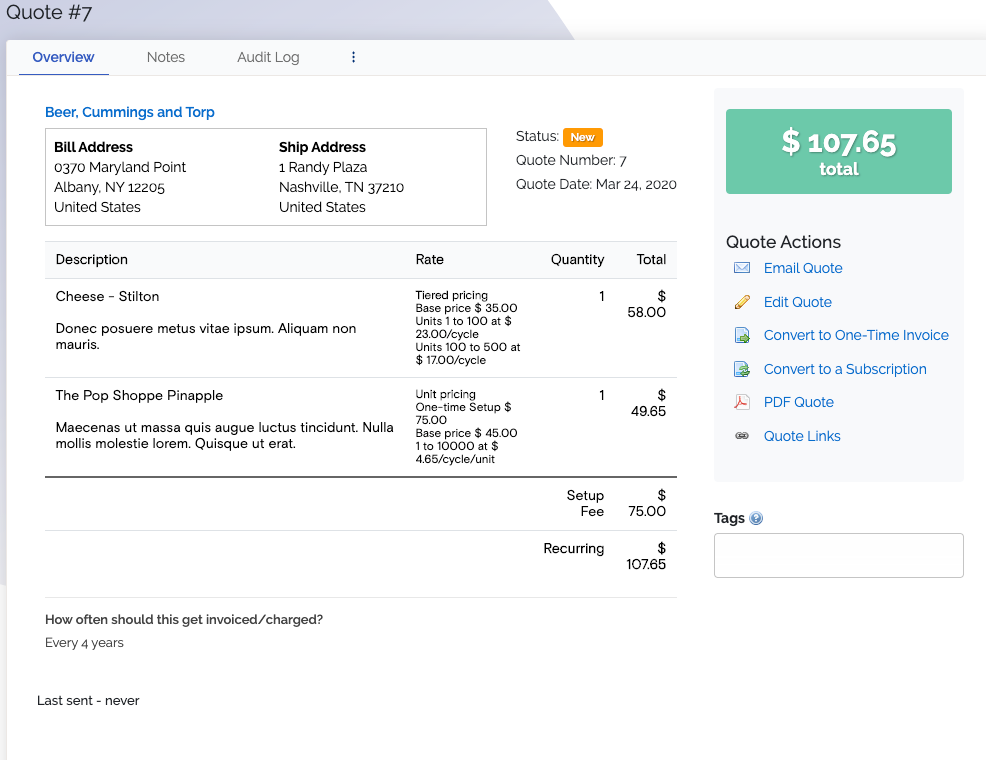 Mark Quote as Lost​
From your Dashboard select Quotes and select the quote you want to mark as lost

On the quote's overview page, select the 3 vertical dots and click Mark as Lost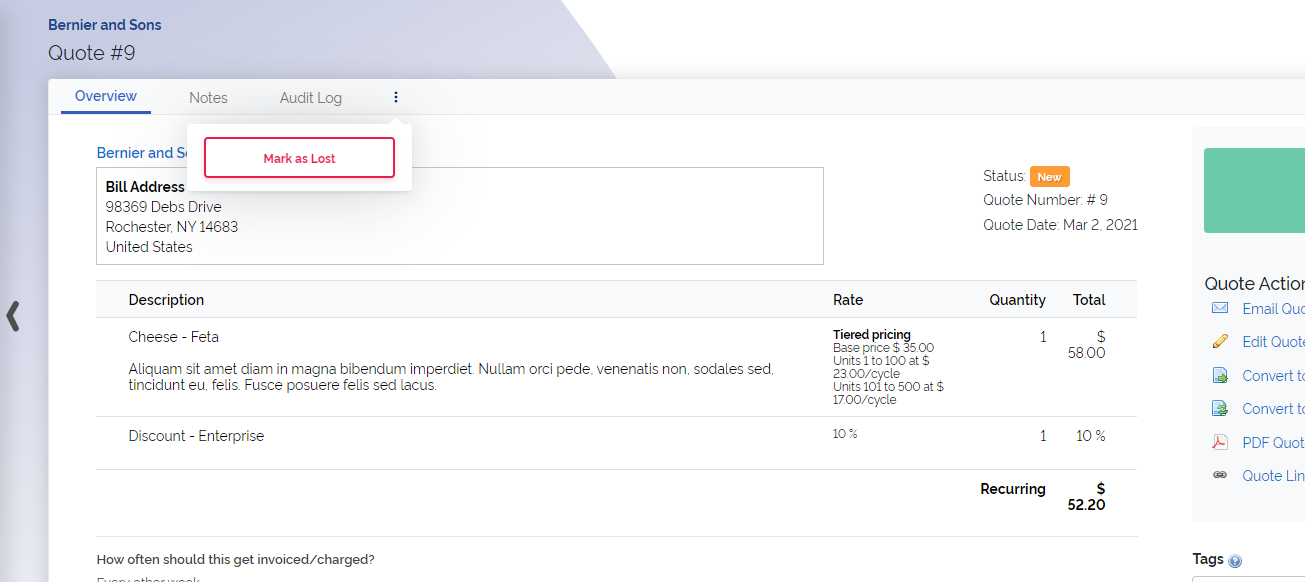 You will be prompted to select a reason why the quote was lost.
Edit Your Quote Lost Reasons List​
Go to your Settings, then Add-Ons and select Quotes from the left menu

Next, in your quote settings, you'll see a list of lost reasons and an option New Quote Lost Reason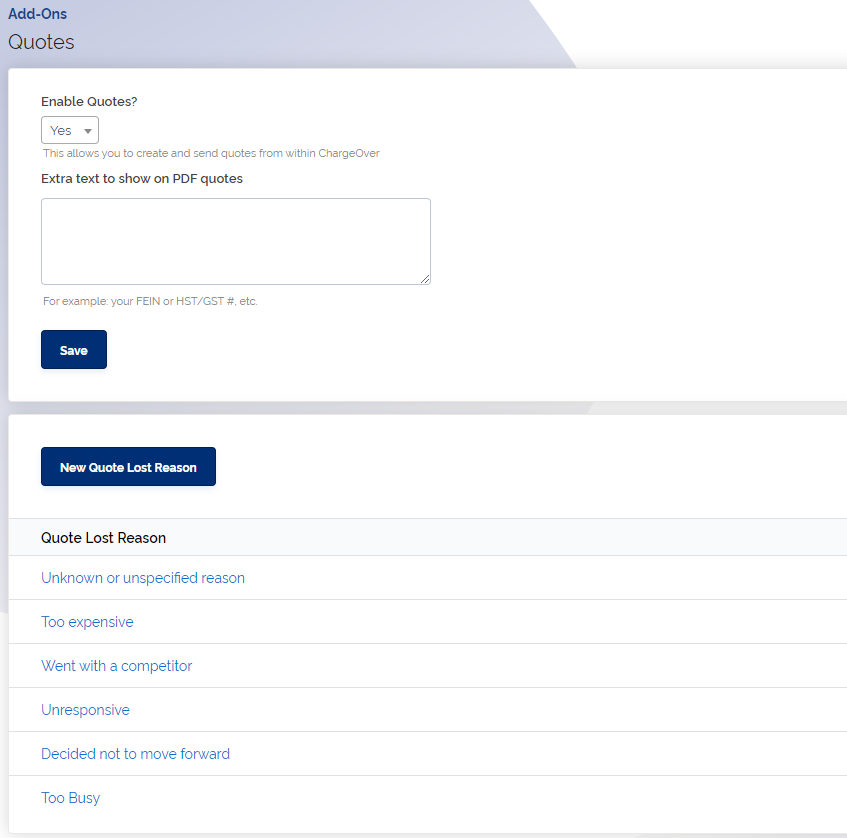 On the next page, you'll be prompted to enter a reason

Save
You are all set! You'll see the reason now from the drop-down menu when marking your quotes as lost.
Re-open a Quote​
Make sure that Quotes is enabled in your account
In the Quotes settings, set "Can quotes be re-opened" to Yes
Go to the quote you want to re-open and click the three vertical dots. Select Re-open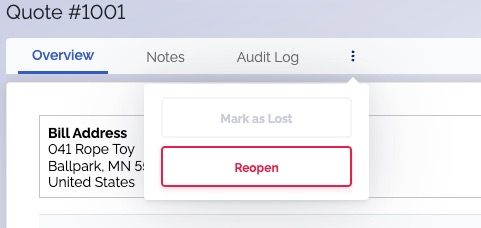 When a Quote Cannot be Re-opened​
More than one invoice has been generated from a resulting subscription
A payment has been made against any resulting invoices
Keep in Mind​
When re-opening a quote, whether it had been marked as lost or won, it will
Delete any associated subscriptions
Delete any associated invoices
Be deleted from QuickBooks Online (but not QuickBooks desktop)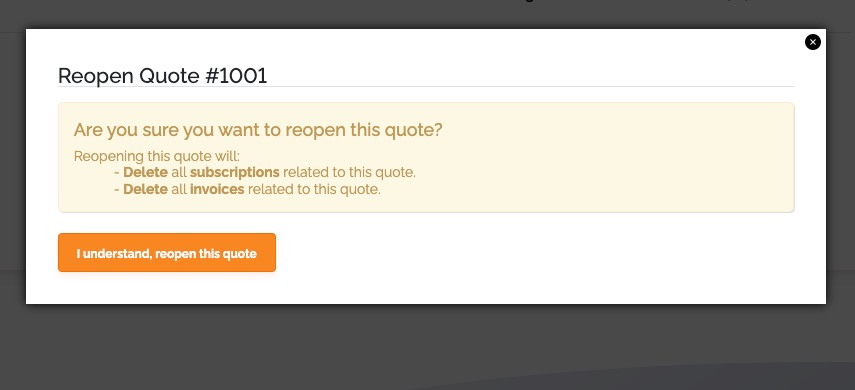 note
You should go and manually check other integrated platforms for any changes that may have occurred.
Quote Status​
When a quote is won (accepted) or rejected (lost), the corresponding watermark will be placed over in the quote's details in the Overview tab.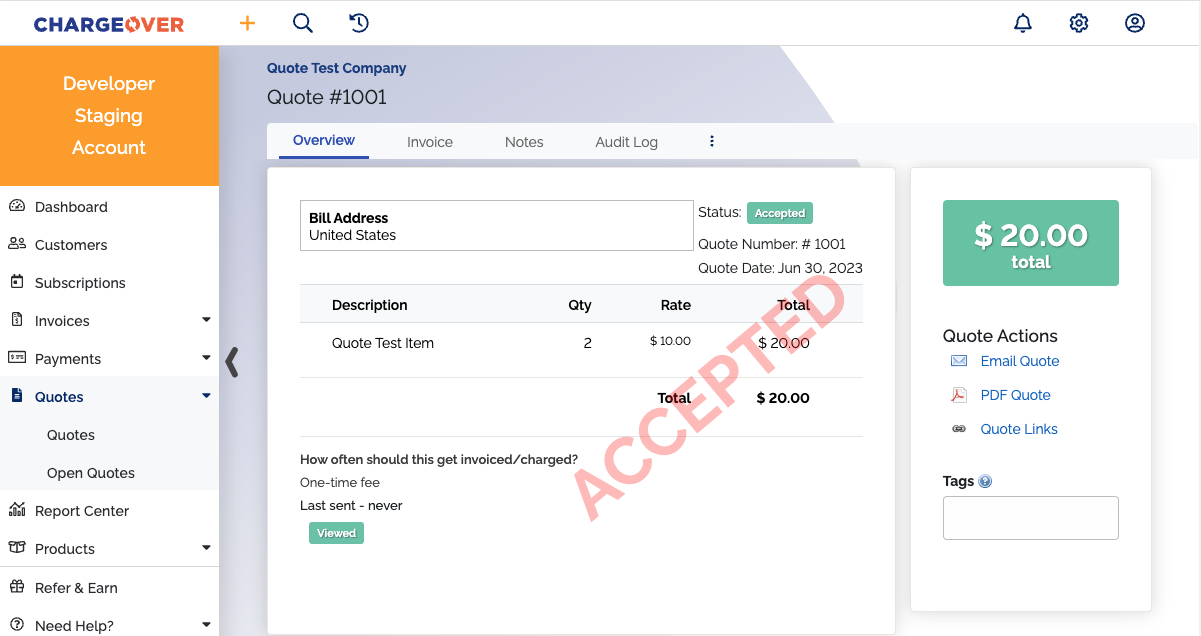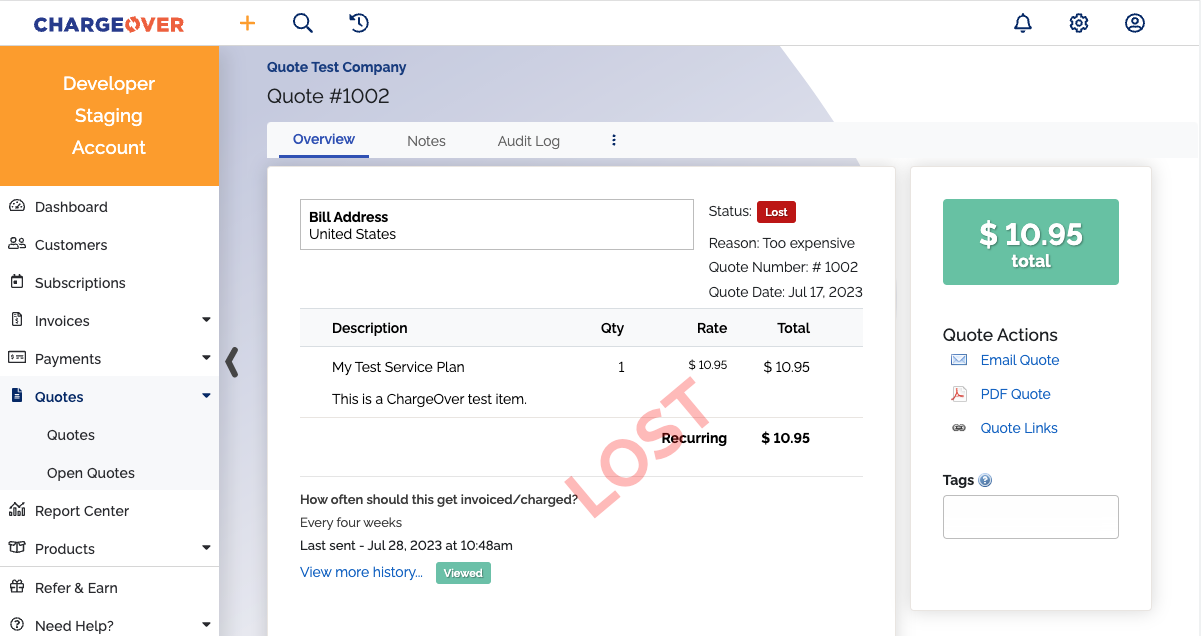 You can find the invoice or subscription created from an accepted quote in the audit log
Quotes & Taxes​
Taxes can be added to quotes if you are using ChargeOver's built in tax calculations.
At this time, we do not have support for adding taxes to quotes from AvaTax or Zip2Tax.
---
Event Log​
See who has viewed or downloaded a quote and when.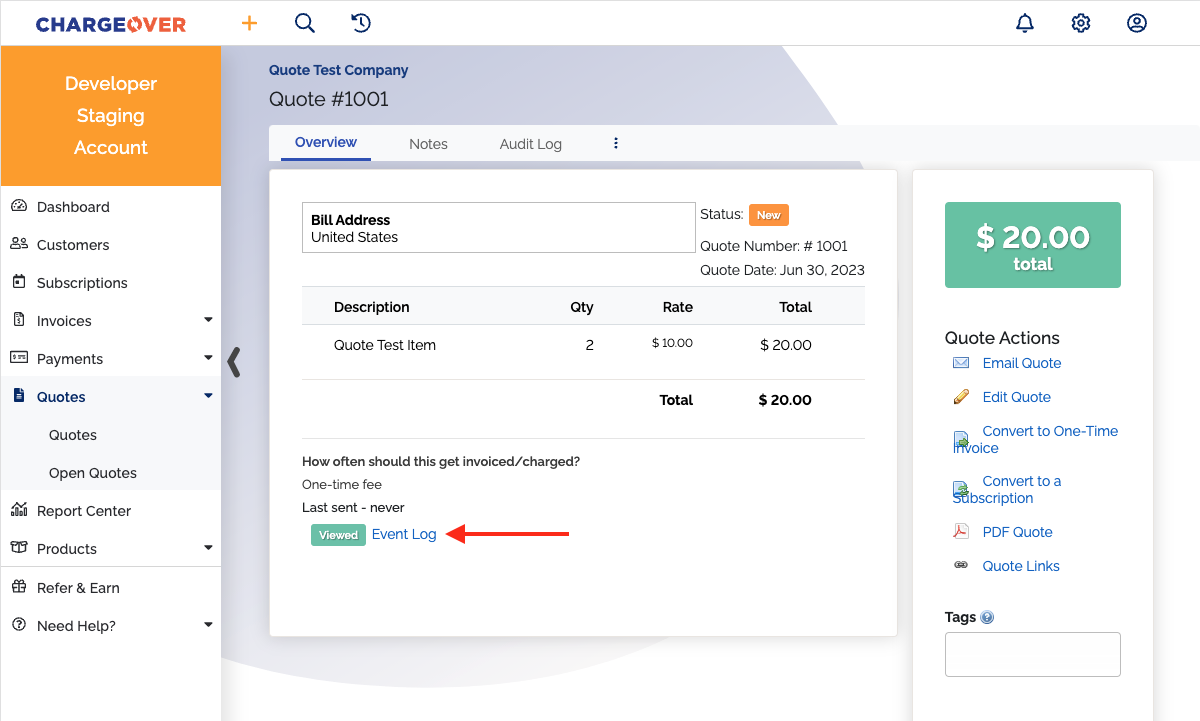 note
If the quote was viewed or downloaded from a private browser or when the viewer is not logged into ChargeOver, the User ID and name will not available.