Brands
By enabling brands in ChargeOver you can customize your ChargeOver invoices, currencies, language etc according to brand if your company operates under multiple business names.
For example, you can set a different, address, phone number, and email to show up on invoices for each of your brands. You can also set a specific language, currency, and even separate invoice numbering systems for each brand.
Enable Brands​
Go to Settings then Add-Ons then More Add-Ons

Search for "Brands" and click the Get Started button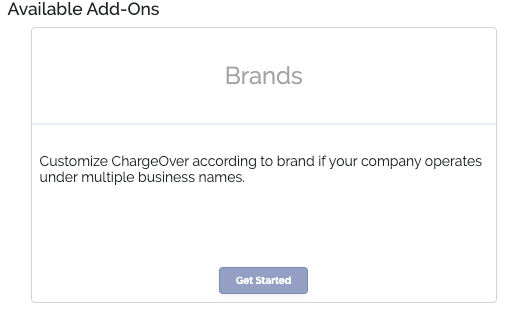 Set "Enable Brands?" to "Yes" and click Save
Brands are now enabled in your ChargeOver account!
note
If you are creating multiple brands, make sure that you select a default brand for your account! That brand will automatically be assigned to customers when they are created unless specified otherwise.

Create a New Brand​
Click the New Brand button

This will bring you to a page that allows you to fill out information for your brand, such as the invoice numbering system, currency, language, address, phone number, and email.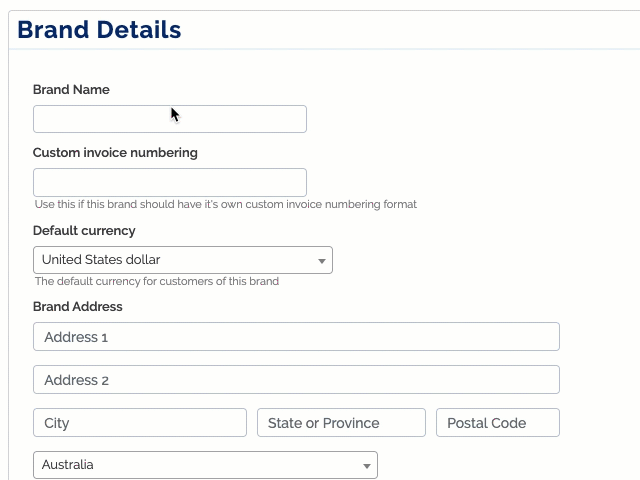 Once you have filled out all the necessary information about your brand, click Save Changes.
Edit a Brand​
Click on the name of the brand in your list of brands

Click the "Edit Brand" tab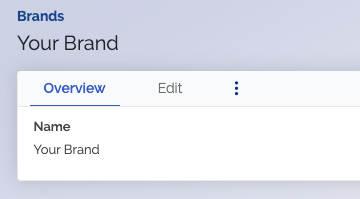 Fill in the name, address, social media links, logo and more, all specific to the Brand you are creating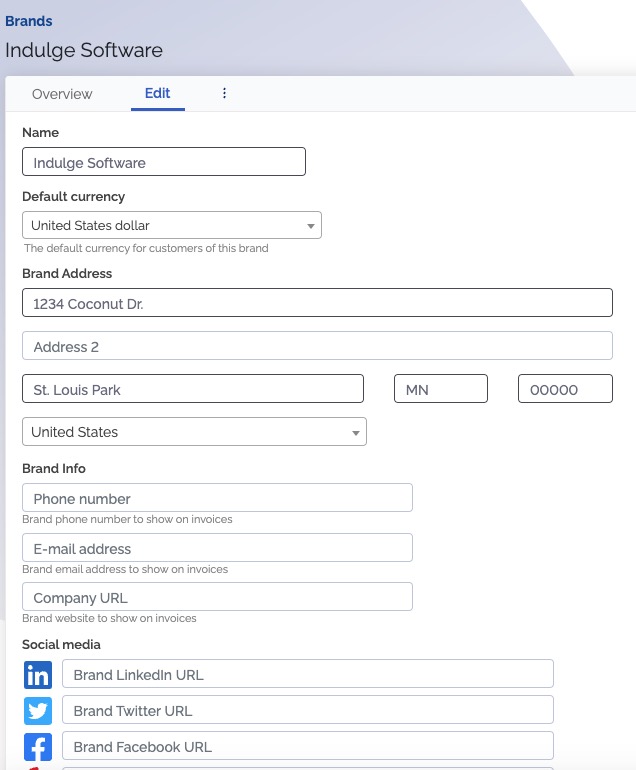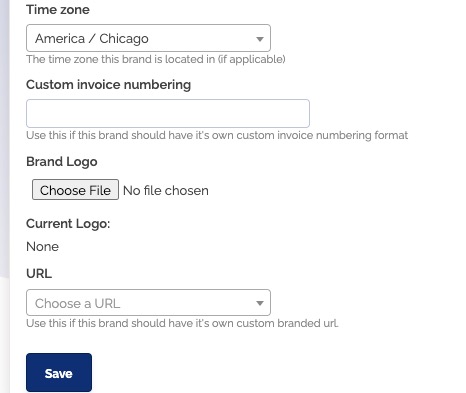 Save changes
Delete a Brand​
Click the three vertical dots next to the edit button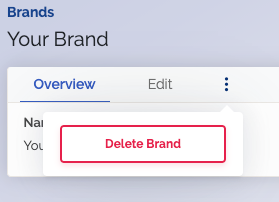 Once you have more than one brand set up in your account, you will be able to select the brand that each new customer you create should be under.
Brands and Hosted Sign-Up Pages​
You can access each hosted sign-up page via each brand's URL or CNAME.
The domain name you use to access the hosted sign-up page determines a few things like
What logo is shown on the page
What brand the resulting customer is assigned to
The brand the subscription and any resulting invoices are assigned to
Change a Customer's Brand​
To start, go to your customer overview page of the customer you want to update

Select Edit tab at the top

Scroll through the settings until you find the Brand dropdown and select the new brand from the dropdown

Click Save at the bottom
Set Up Custom Domains for Each Brand​
Navigate to your Settings and find the Brands add-on.
From your list of brands, select the brand you want to assign a URL. On the next page, select the "Edit" tab.
At the bottom of the edit page, there will be a dropdown for you to select the URL that should be associated with this brand.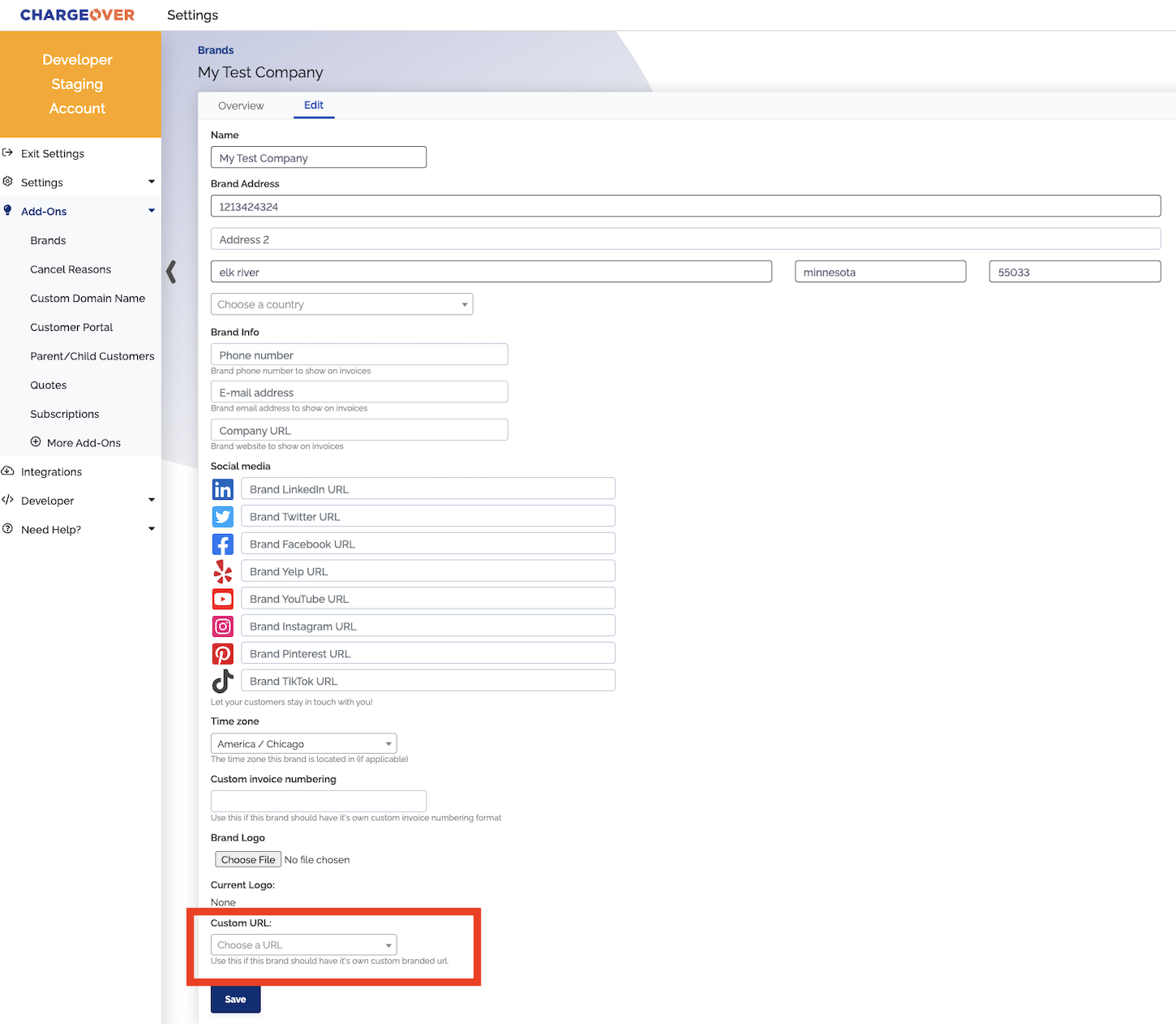 Things to Keep in Mind​
If you add a second CNAME/custom domain, and do not attach it to a specific brand it just makes the account available at the new URL in addition to the previous URLs
When you attach a custom URL to a specific brand...

Each customer's Update your pay method links will use the domain attached to the brand
Invoice and Quote links will use the domain attached to the invoice's brand
If you access a hosted page via a specific brand's CNAME, the logo etc. on the hosted page will use the brand corresponding to the domain you accessed it on
If you access the customer portal via a specific brand's CNAME, the logo etc. on the portal login page will use the brand corresponding to the domain you accessed it on